Whether or not to get insurance for your dog is a big financial decision. In this article, I will combine my knowledge and some information received from a licensed veterinarian to help you decide and find the cheapest one for your needs.
Dog owners not able or willing to spend a few thousand dollars at any time for their dog's health should get pet insurance to avoid making decisions based on their ability to afford care. Otherwise, it depends on the likelihood that the dog could have health issues and the owner's risk aversion.
There is no way to know for sure if dog insurance will be worth it. Nobody can predict the future medical costs of your dog. But there are ways to get more information and make a better decision based on simple facts detailed below.
Taking a few minutes to read this article is an excellent idea for two reasons. First, it could save you thousands of dollars. But mostly, it is written with the well-being of your dog in mind.
Before & After you Get a Puppy (2 eBooks)
+ Our Dog Supplies Checklist
+ Discounts & Coupons
FOR FREE
Step 1: Personal finances and dog medical costs
Having a dog is expensive. Throughout your pet's lifetime, you will most probably spend over $10,000 in regular expenses (dog, supplies, food, vet, grooming, training), and it could even add up to more than $100,000. To get an idea of the cost of your favorite breed, you can check our breed-specific cost articles and make sure you can afford to raise a four-legged friend.
On top of that, your dog could need expensive medical treatments after an accident or because of an illness. Here are the 13 most common medical problems according to our consulting licensed veterinarian, Leslie Brooks, DVM. I have asked her opinion on 151 types of dogs (purebred and mixed-breeds) to establish this list.
The first column is the name of the medical problem. The second column is the percentage of dog breeds for which it was considered a risk. The third column is a cost estimate to treat this problem (can vary depending on many factors).
| | | |
| --- | --- | --- |
| Condition | Breeds at Risk | Cost Estimate |
| Allergies | 53% | $100 – $2,000 per year |
| Dental disease | 39% | $400 – $800 |
| Patellar luxation | 39% | $300 – $2,000 |
| Cancer | 29% | $500 – $10,000 |
| Hip dysplasia | 26% | $500 – $6,500 per hip |
| Cranial cruciate ligament | 24% | $2,000 – $4,000 |
| Gastric dilatation-volvulus | 22% | $1,500 – $3,000 |
| Mitral valve disease (heart) | 20% | $300 – $2,000 |
| Hypothyroidism | 19% | $350 – $800 |
| Cataracts | 14% | $1,500 – $3,000 |
| Epilepsy | 13% | $500 – $2,500 |
| Arthritis | 13% | $50 – $500 per month |
| Elbow dysplasia | 11% | $2,000 – $3,500 |
Related: Canine Care: Breaking Down The CT Scan Dog Cost
As you can see, some medical conditions can be expensive to treat. Although purebred dogs may have a higher incidence of inherited disorders, mixed breed dogs are also likely to develop health conditions, such as cancer and heart disorders. No dog owner should have to make critical decisions about their pets based on their ability to afford care. That's why pet insurance is more popular every year in the US.
It's hard to put a definitive number, but it would seem wise to get dog insurance for anyone who would struggle to get access to at least $3,000 to $5,000 of savings at any time in case of an emergency. Not only do they need to have this amount of money, but they must also be ready to spend it on their dog.
If you are in this situation and agree with this, you can directly scroll down to step 3 to read a few tips to find the best and cheapest insurance for you. Otherwise, go to the second step below.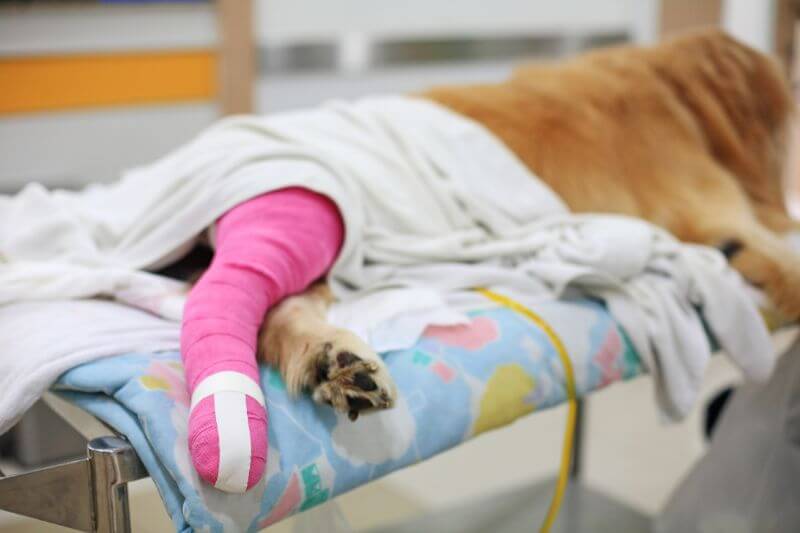 Related: Dog MRI Cost: Why Prices Vary and What Can You Do About It?
Step 2: Evaluate the risk of potential medical problems
If you are still reading, it's that you feel confident that you could pay for your dog's healthcare in case of an accident or severe illness. Now, the idea is to try to figure out the probability that dog insurance is cheaper (or more expensive) than medical expenses for your dog over time.
Let's be honest, if there were a way to get this information with certainty, we would know it by now, and the pet insurance industry would not exist anymore. Nonetheless, there are a few ways to get some very interesting facts from different sources to help with the decision making process.
PetBudget directory
This blog started with the idea of evaluating the cost of owning different breeds of dogs. It allowed me to work with veterinarians to identify some of the most common possible medical problems for each dog breed and get a cost estimate to treat them.
You can go to our breed directory page, click on your favorite(s) breed(s), and get great information in the medical cost section. Once it's done, come back to this article.
Related: Breaking Down the C-Section for Dog Cost: What to Expect
Health conditions DNA test
There is a way to evaluate the risk of many genetic health conditions to start preventive care early on and plan for potential significant expenses.
Along with Cornell University, Embark's veterinarians have developed a DNA test kit that enables them to evaluate the risk of over 190 health conditions. For less than $200, and within 2 to 5 weeks, you will receive a detailed report with great information to plan for proactive care with your veterinarian and budget your expenses. Embark is the most accurate and comprehensive dog DNA test on the market. It also tests for over 350 dog breeds.
Investing this amount is worth it, not only for your dog but also because it gives precious information to have when it's time to make a decision that could result in thousands of dollars in expenses.
Related: Cherry Eye Dog Surgery Cost, Treatment, and Care
Talk to a veterinarian
Once this is done, you will already have a good idea of your dog's level of health risk. The last action to take is to speak with a veterinarian about that. The idea is to answer three questions:
Are there any other potential medical conditions you should be aware of?
How much would each medical problem cost to treat?
Based on all this information, would the vet recommend getting pet insurance or not? (it's good to have a professional opinion as well)
If you are in the US or Canada, you could now get an online appointment with a vet with Vetster. It's extremely simple, and you get to pick a veterinarian in your area based on their price and reviews. So you can get your answers faster and without having to go in person.
You now have the first side of your equation. Again, it's not perfect, but it's probably the most accurate information anyone can have.
Read our article titled a veterinarian explains medical costs for a dog to learn more and get tips to save on vet expenses.
Related: How Much Does It Cost to Chip a Dog?
Related: How Much Does It Cost to Put a Dog Down?
Step 3: Dog insurance cost
The third step is to find the cost of pet insurance for your dog and needs. But first, I want you to have a better understanding of what's available on the market.
A few facts about pet insurance
There are over 2 million dogs insured in the US only, and this number has been growing at a rate of 15% on average over the past few years.
There are three types of coverage:
Accident (like foreign body ingestion, lacerations, car accident, ligament tears, poisoning, etc.)
Accident and illness (accident benefits plus illnesses such as cancer, infections, digestive problems, etc.)
Complete health coverage (accident, illness, and most vet expenses like vaccinations, diagnostics, dental care, etc.)
Accident-only policies account for less than 1% of the US market, so they are not very popular.
According to the North American Pet Health Insurance Association's latest industry report:
The average dog insurance premium in the US is $194 per year ($16 monthly) for accident-only policies and $585 per year ($49 monthly) for accident and illness. The price will vary depending on multiple factors, including the dog's breed, age, location, and the plan chosen.
Related: Dog Insulin Cost
When comparing pet insurances, the cost is a significant factor, but it is also essential to consider the following aspects:
Deductible type (per incident or per year) and amount (usually $50 to $1,000)
Reimbursements percentage (usually 70 to 90%) and limits (could be $1,000 to unlimited)
Services included (diagnostic, follow-up exams, emergency visits, vaccines, hospitalization, surgery, medications, specialists, cancer treatments, pre-existing conditions, etc.)
Waiting times (policy coverage can start immediately or 14 days after sign up, accidents coverage could begin as late as 15 days after the policy starts and illnesses coverage as late as 30 days after, for example)
Dog's age limit
I cannot stress enough how vital understanding all this is. Many people believe they have coverage for something when they don't or underestimate the part they have to pay.
Pre-existing conditions are not just based on your dog but can also be based on the breed. It's crucial because you might have to take some risks yourself, even if you have dog insurance.
Also, it's good to know that you will have to pay the vet bills in full and wait for reimbursement from the insurance company in many cases. Some companies will also calculate the reimbursement based on the usual cost of vet care in your area instead of the actual price paid (if it's too much).
Finally, some pet insurances don't work with all vets. For example, a company can require that the vet taking care of your dog be a member of the American Veterinary Medical Association (AVMA). But your vet could have joined the Humane Society Veterinary Medical Association (HSVMA) instead.
I understand that all of this can be a headache, but it's worth taking the time to inform yourself to avoid any bad surprises.
Related: Dog ACL Surgery Cost and Treatment
Find the best price
There isn't a magic recipe to find the best price. But the process is straightforward. For accident only or accident and illness plans, the fastest way to get multiple quotes is by using websites like PetInsurer.com or PetInsuranceReview.com. You could also ask for quotes from other pet insurance companies that did not appear in the results. If you want to do that, I have listed most of the companies selling pet insurance in the US at the bottom of the article.
A little tip I use myself is always to double-check the best price I got from an insurance reseller with the price on the insurance company's website. Premiums will increase as your dog gets older. So get quotes for different ages of your dog to get a better idea of the total cost you will have to pay over the years.
It's also possible to get a price from insurance companies for complete health coverage, but the rates usually prohibitive. Routine vet expenses per year and dog on average being just north of $210, according to the American Pet Products Association (APPA)
Once you have found what seems to be the best price and option for you, make sure to understand the deductibles, reimbursement percentage and limits. Also, check the services included (especially what is considered a pre-existing condition for your dog and your dog's breed) and when the policy starts. If you have any doubt, contact the company.
Related: Dog Mammary Tumor Removal Cost – Detailed Guide
Related: Luxated Patella of Dog – Surgery Cost
Step 4: Make a decision
Now you have a lot of information to make a decision based on facts. Ask yourself the following questions.
Question 1: Do you have savings (at least three to five thousand), and would you be comfortable spending a few hundreds or thousands of dollars for your dog if needed?
If the answer is yes, go to question 2, otherwise you should get pet insurance.
Question 2: Should your dog need medical care because of a potential illness found during step 2, would it be cheaper to pay the medical bills yourself than to have enrolled in pet insurance?
Run a few scenarios based on the information collected in the two previous steps. Compare the cost estimate for any health issue that the dog could have versus the cost of pet insurance for the dog's lifetime plus deductibles and coinsurance (the percentage of costs you pay after you've met your deductible).
If it is likely to be cheaper to buy pet insurance than to pay yourself if the dog gets one or two health problems (especially the ones where the risk is high for your dog or its breed), you should get pet insurance (a policy that covers these risks!). Otherwise, you should be fine without one.
Related: How Much Does It Cost to Clone a Dog?
Final thoughts
If you don't have many savings and would be facing a difficult decision if a vet announced to you that your dog needs expensive treatments, surgery, etc., it's probably best to get dog insurance, at least an accident and illness plan.
If you feel comfortable about your financial situation, but your dog seems to be at risk for any expensive medical condition, do some scenarios to evaluate and compare your potential costs. Chances are it will make sense to get pet insurance (as long as these medical problems are covered).
Suppose you feel comfortable about your financial situation. After gathering all the information during step 2, it seems that your dog has an excellent chance to remain healthy his whole life. In that case, you can follow your initial idea. No pet insurance or a simple accident coverage could be OK (as an accident can always happen) since you could pay the medical bills if needed. But you can also buy peace of mind by getting better coverage.
Related: TPLO Surgery for Dog Cost
More content you could like
Related: Ultrasound Cost for Dog
Pet insurance providers in the US
Here is a list of most of the companies you can get pet insurance from in the US. If there is another name between parenthesis, it's either the company they belong to or the company they partnered with to provide pet insurance.
ASPCA Pet Health Insurance (Crum & Forster)
Hartville Pet Insurance (Crum & Forster)
Liberty Mutual Pet Insurance (Crum & Forster)
PetPremium Pet Health Insurance (Crum & Forster)
Prudent Pet (Crum & Forster)
Spot Pet Insurance (Crum & Forster)
Allstate (Embrace)
American Family (Embrace)
American Modern (Embrace)
Armed Forces (Embrace)
Bolt Agency (Embrace)
Embrace
Geico (Embrace)
SWBC (Embrace)
USAA (Embrace)
Figo Pet Insurance
Healthy Paws Pet Insurance & Foundation
Nationwide Pet Insurance
PetFirst Pet Insurance
24PetWatch (PetHealth)
AKC Pet Insurance (PetPartners)
PetPartners
Petplan Pet insurance
Farmers Insurance (Pets Best Insurance)
Pets Best Insurance
Progressive Insurance (Pets Best Insurance)
Trupanion